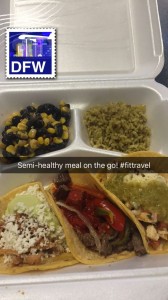 I absolutely love Mexican food! So much, in fact, that it's some of my favorite cuisine out there. The unfortunate thing is, it's not always the healthiest choice (excessive amounts of sodium, cheese/saturated fats, etc., don't exactly make this cuisine a fitness model's dream come true). Sure, it's one of the easier types of restaurants to go and make a few adjustments and get a healthier meal than what's listed on the menu (skip the chips, skip all of the cheese, make sure you don't get the deep fried options, pass on the sour cream, etc.), but what if I told you that there are really simple options that you can make right at home while still keeping everything on track with your fitness, physique and nutrition goals?
Here are a few ways that I make my favorite Mexican meals the healthy way (with minimal prep time, too- and you know that's my favorite- the least amount of time spent in the kitchen the better!). Please note that the approximate serving sizes are based on what I would typically make for myself, when I'm at home on a regular schedule and eating 5-6 meals a day
Taco Meal: 2 small corn tortillas, 1 slice of pepperjack cheese (Trader Joe's had a yogurt pepper jack cheese that's good…or get a low fat cheese option), take 4-5 oz of whatever protein you want (ground turkey breast is super simple, but I also like to do a grilled lean steak as well ), melt half slice of cheese on each tortilla, top tortillas with the protein, lettuce/pico de gallo, 1 tablespoon of avocado plus 1/3 cup black beans on the side & whatever other veggies you want, use 1/3 cup of greek yogurt on the side instead of sour cream (mix with hot sauce or salsa if you want)
Healthier fajitas: cook up lean steak, onions/peppers/mushrooms, grab 2-3 of those small corn tortillas, have 1/3 cup rice of choice and 1/3 cup black beans on side, and add whatever other veggies you'd want plus avocado (I'll use some of the healthy guac recipe that I included below at the bottom of these options)
Healthier burrito: Use a Flat Out Wrap or Whole grain tortilla (look for tortillas 150 calories or less and make sure there's at least 5 grams of fiber per tortilla), and stuff that tortilla full of your fave type of protein (again, I love grilled steak, grilled chicken breast, or you can even do a lean cut of pork that you've slow roasted in the crock pot in order to make a healthier version of carnita), add in ¼ cup rice, ¼ cup beans, whatever veggies you want, avocado or guacamole (see below for healthy guac recipe; I typically use 1/3 cup per serving of my healthy guac recipe) ½-1 slice of cheese
Healthier version of guacamole: 1 avocado, mashed. Add in 1 cup of nonfat/plain Greek yogurt, ¼ cup of salsa (any kind), squeeze some lemon in the mix, add ½ teaspoon of both garlic salt and garlic powder. Mix everything together and BAM- you have a healthy version of guac! I typically still skip the chips with this and instead use the guac on my tacos, burrito, fajitas, etc., to keep it as healthy as possible.
Of course feel free to go out and enjoy your favorite Mexican meal options in moderation, but when a craving strikes, just know that you can still load up on the flavor, protein and all around deliciousness of Mexican food while staying on track with your fitness goals! After all…healthy food doesn't have to be boring!  Enjoy! 🙂
*Note that the photo inserted in the post above is a snap shot of a meal I grabbed while on the go traveling. Mexican food made as healthy as possible while on a layover at the Dallas airport!*
Comments