Get ready to have fun with your fitness while earning some serious results! I'm thrilled to have partnered up with Fitness Magazine for this brand new 8 WEEK WORKOUT program! Launching MAY 1st, and can't wait for you all to get started!
Details and sign-up info at the link below:
http://fitnessmag.co.za/free-8-week-program-jen-jewell/?utm_source=jen_jewell&utm_medium=social_media&utm_campaign=Jen_Jewell_8week&utm_content=external
A few things about the program:
No gym? No problem! I've created these workouts for any and everyone to rock whether they're working out at home with access to minimal equipment, a full gym, or are taking their workouts on the go, these programs are for you!
If you've hit a plateau, are looking to kick up your results before summer, or just want to put the FUN back into your fitness, give these a try!
You'll receive weekly emails with nutrition tips, some of my favorite healthy recipes, how I stay motivated and more, throughout the entire 8 weeks!
I'll be following along with your fitness journeys, so please make sure to share your progress, workout fun and results with me on social media! Whether you're on Twitter, Facebook, or IG, use the hash tag #resultswithJen to share all of you results with me. Can't wait for you all to get started! NO EXCUSES, JUST RESULTS!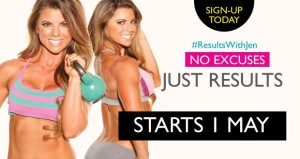 Comments